It is always nice to have some time to spend for yourself and relax. But it would be nicer if we could spend it a productive way. Nowadays, more and more people are hooked into art and crafts. It is not surprising as it is indeed a great way to spend your time. Other than being able to express your creativity, you can also spend less on something that you may need and use at home.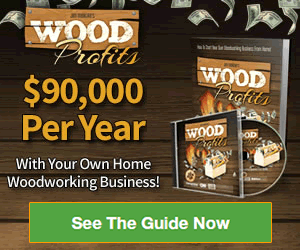 One of the materials being widely used are scrap woods and they are available almost everywhere. Some crafts can be used not only to beautify our homes, but can also serve as something useful. Do you want to create your own masterpiece? Here are some of the fun and easy scrap wood project that you can try!
---
1.

Rustic Wood Picture Frame
Materials:
Wood
Tacks
Hammer
Nail
Paint
Hot glue
Screws
Procedure:
Determine the size of the frame and cut the wood according to it. If you are using scrap woods, you can attach them using hot glue and screws. Your fame should be rectangular.
Sand the wood at all sides to maintain a smooth surface. Paint it with the color of your choice.
Once dry, cut 2 pieces of wood about the size of the frame and nail them vertically on each side at the back of the frame for stability.
Attach a paper on the front side using tacks. Paste the picture on the paper. Decorate the sides of the frame using the tacks.
Watch this tutorial from Youtube.
---
2.

Earrings Stand
Materials:
Woods
Aluminum sheet
Miter saw
Wood glue
Small Nails
Paint
Procedure:
Prepare woods of these sizes: 2= 1×1 9 ¼" board, 1 = 1×1 7" board, 1=1×4 7" board.
Cut both ends of 1×1 7" with 45° angle. Cut 1 end of the 1×1 9 ¼" board with the same angle. The other sides are cut with 15°. This side will be pasted on the base.
Attach all pieces with the wood glue as follows: 1×1 7" board on top,1×1 9 ¼" board on the sides and the other one as base.
Cut a sheet of the decorative aluminum sheet and secure it at the back using small nails. Paint it. Load it with your earrings.
Watch this tutorial from Youtube.
---
3.

Address Number Wall Planter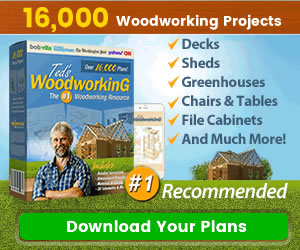 Materials:
5×5" cedar fence picket
4×8" cedar board
Metal numbers
Handsaw
Plant
Driller
1 ¼ Pocket hole screws
Wood glue
Nails
Procedure:
Cut the fence picket into 3 pieces of 18" long. Make another cuts for the planter: 1 = 10.5", 2 = 3.5", 1 = 12".
Make ¾" pocket holes in the middle of the two 18" long boards and attach the 3 boards through the holes using 1 ¼ pocket hole screws
Use the same process to attach the 10.5" board on the bottom. This is the base of your planter. Then attach the 3.5" board on each side using wood glue and nails. Finally, attach the 12" board on them.
Smoothen and paint or stain it. Finally, attach the numbers and put plants in the planter. You can choose to hang them anywhere in front of your house.
Watch this tutorial from Youtube.
---
4.

Bottle Vase
Materials:
4 bottles
2 = 14 cm wood, 2 = 32 cm wood
Drill
Sandpaper
Saw
Procedure:
On one of the 32 cm board, drill 4 holes that fit the bottles' heads
Attach all woods using nails. It should form a rectangle. The wood with holes is on top.
Insert the bottle heads carefully with the head first from the bottom.
Pour in water and put the flowers of your choice.
Watch this tutorial from Youtube.
---
5.

Wood and Twigs Coat Rack
Materials:
Dry branches with similar dimension, some with Y-angles
Corner clamp
Wood glue
Filler
San paper
Handsaw
Paint
Procedures:
Cut the woods into: 2 = 400mm and 2 = 200 mm long. Attach the woods using wood glue and corner clamp. Fill the gaps with the filler. Sand all sides to smoothen and paint it.
Cut the branches so they fit in the frame. Make sure that the twigs with Y-angle are between other branches. Insert them in the frame carefully and secure them using the glue. Once dry, smoothen the excess glue.
Watch this tutorial from Youtube.
---
6.

Scrap Wood Candle Holder
Materials:
A piece of 15" wood
Handsaw
Drill
1 ½" forstner bit
Sandpaper
Procedure:
Shape the piece of wood based on your preference. A long cuboid is an example. Smoothen all sides with the sandpaper.
Decide how many candles you'd put in the holder. Measure the distances of each hole to appear nice and even. Draw a drill mark as your guide.
Drill the wood to make holes, big enough for the candles to fit.
Smoothen it again. Decorate and paint it to suit your taste. You can choose to hang it or place it your table.
Watch this tutorial from Youtube.
---
7.

Simple Rustic Shelf
Materials:
Scrap wood/ wood
Pocket hole jig
Screws
Drill
Miter saw
Procedure:
If you are using scrap wood, attach all of them using screws to make a big board of your desired size. Cut and make adjustments if needed. Make sure that all pieces are secured and stable.
Smoothen all sides and start decorating it. If you are using paint, dry it completely before continuing.
Decide where you'd put the shelves and attach them on the board using the screws. These shelves should be screwed from the back. Hang your shelf.
Watch this tutorial from Youtube.
---
8.

Colorful Scrap Wood Coasters
Materials:
Hand saw
Scrap wood
Gorilla glue
Neon Color Paint
Paintbrush
Procedures:
Cut 10 woods of 3×4". Each coaster uses 5 pieces.
Attach 3 woods together using the glue. Set it horizontally. Attach 2 pieces vertically on each side. This serves as the stand.
Paint each piece with different colors. You may also decorate as you wish.
Watch this tutorial from Youtube.
---
9.

Simple Key holder with Shelf
Materials:
1 = 1×6 10" wood, 1 = 1×2 3" wood
Wood glue
1 ¼" screws
Key Hooks
Paint
Procedures:
Position the smaller piece of wood on the lower left side of the bigger wood and attach it using the screws. This will serve as small shelf.
Pre-drill holes for the key hooks. You can determine the positions on your own.
Paint the board. When dry, attach the key hooks. Hang your key holder.
Watch this tutorial from Youtube.
---
10.

Scrap Wood Wall Art
Materials:
1 ½" plywood, 1×2 boards, pieces of woods in different sizes and shapes
Miter saw
White Duck mirror tape
1 ¼" nails
Strong glue
Sandpaper
Stain
Procedures:
Paint the plywood. While drying it, prepare the pieces of wood. Cut and shape them if needed. Trace them onto the plywood to determine their positions.
Sand all rough edges. Paint the pieces of wood with different colors.
Attach them on the plywood in any way you want using the glue. Attach the frames using finish nails. Hang your masterpiece.
Watch this tutorial from Youtube.
---
Conclusion:
Don't just throw those scrap woods away. Let your imagination work and let's start creating our masterpieces.